Over 30,000 evacuated as Mayon Volcano erupted in the Philippines on January 2018.
Mount Mayon, is an active stratovolcano in the province of Albay in Bicol Region, on the large island of Luzon in the Philippines. Renowned as the "perfect cone" because of its symmetric conical shape, the volcano with its surrounding landscape was declared a national park on July 20 of 1938, the first in the nation. It was reclassified a Natural Park and renamed as the Mayon Volcano Natural Park in 2000. Local folklore refers to the volcano being named after the legendary princess-heroine Daragang Magayon (English: Beautiful Lady). Numerous festivals and rituals are associated with the volcano and its landscape. The volcano is the epicenter of the Albay Biosphere Reserve, declared by UNESCO in 2016.
2018 activity
On January 13, 2018, at 4:21 PM (PST), a phreatic eruption occurred that propelled a grayish steam and ash plume approximately 2500 m high that drifted to the southwest side of the volcano. The activity lasted approximately 1 hour and 47 minutes and traces of ash fell in Barangay Anoling, Daraga, Barangays Sua, Quirangay, Tumpa, Ilawod and Salugan of Camalig and in Barangays Tandarora, Maninila, and Travesia in Guinobatan. Sulfuric odor was noted by residents of Camalig town proper. Rumbling sounds were also heard by residents of Brgy. Anoling, Daraga and rockfall events were intermittently recorded. Faint crater glow was first observed at 10:16 PM. The event prompted DOST-PHIVOLCS to raise the Alert Level of Mayon Volcano from Alert Level 1 (abnormal) to Alert Level 2 (increasing unrest).
On January 14, 2018, Mayon Volcano's alert status was upgraded to Alert Level 3 (increased tendency towards a hazardous eruption) after 3 phreatic eruptions and 158 rockfall events were recorded. The summit's crater also exhibited a bright glow signifying the growth of a new lava dome and the start of lava flows towards its slopes.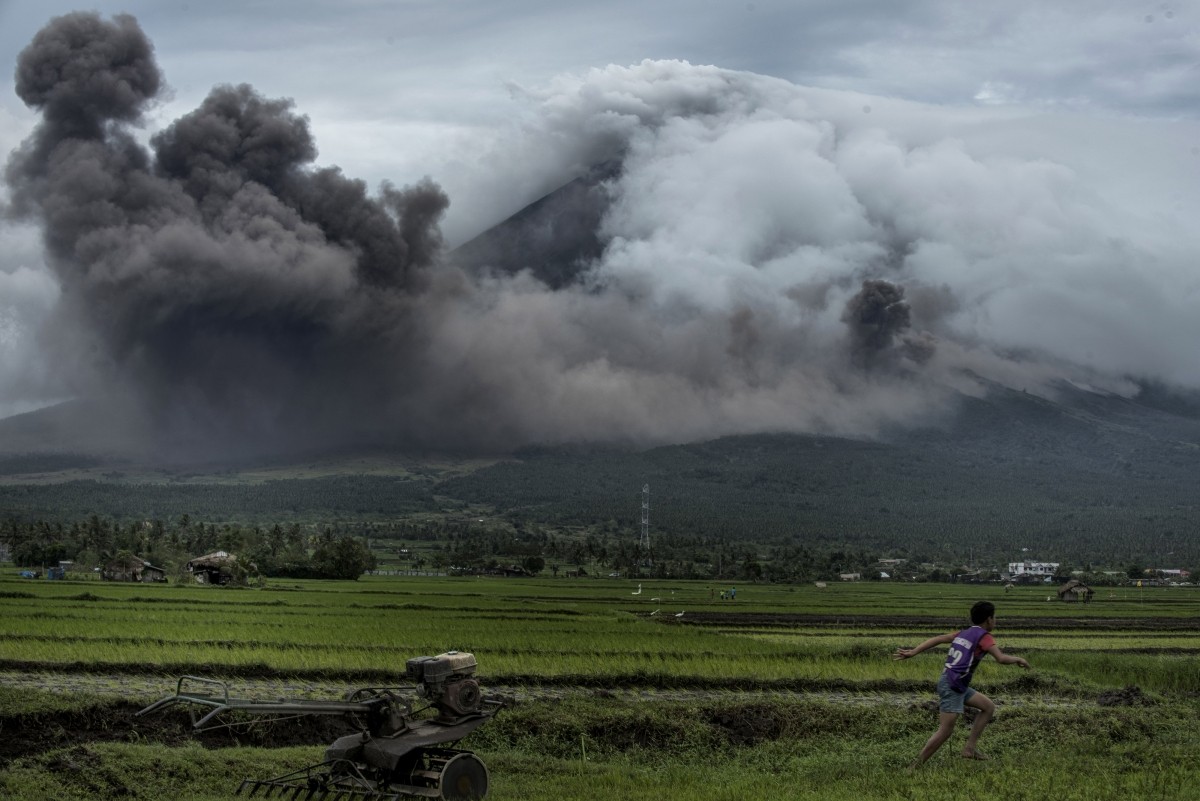 On January 16, 2018, the province of Albay declared a state of calamity as lava flows reached the limits of the 6km evacuation zone.
On January 22, 2018, alert level 4 was raised after Mayon spewed 10KM ash column, classes on all level was suspended.